My own experience of using the Print then Cut feature
Here are some screen shots with notes, and photos of my very first attempt(s)
1. I opened Cricut's Design Space webpage and logged in with my email and password
Then chose > Create New Project which takes me to a new Canvas.
**Note: For info on Design Spage see>
Cricut Design Space Reference Guide & Glossary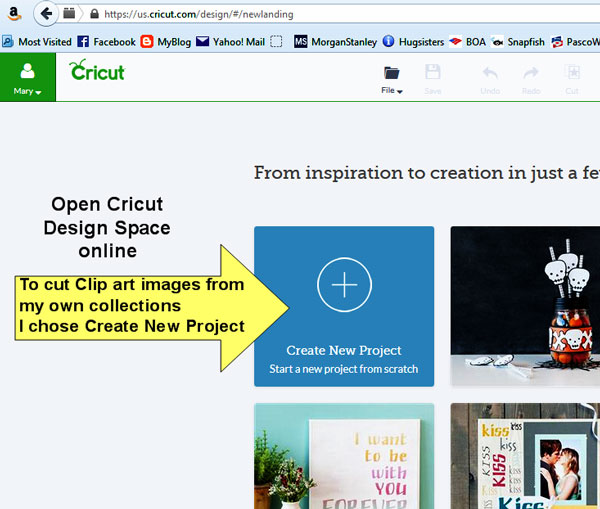 On the workspace Canvas, there is an option to
"Upload Image"
,
so I clicked on Upload Image and chose
Basic Upload
-
In this particular screen shot
I had already uploaded 3 images using Basic Upload, to the Design Space,
and all I have to do is Click on the image I want,
and insert it to my workspace canvas.
see >
Cricut Design Space Reference Guide & Glossary
for more information about the online application.
2. Next I sized and arranged the image on the Canvas
when done, I clicked on GO icon in upper right, and followed the prompts to print
image using my printer, and then place that printed sheet (I used 8.5x11 White Card Stock)
onto the Cricut Explore sticky mat (the mat included with machine is 12x12)
and load it to the machine, and follow on screen prompts and cut the image.
**image used is from the
NitWit Collections - Great White North collection
**
The image is in PNG format. It is Important to Note > there are SIZE limitations to how big you can make your image on the online canvas,
the software assumes you are printing from a printer that handles 8.5x11 material.
And there has to be room to apply all the registration marks.
Here are the sizing measurements that show how large a printed image can be:
Excerpt quoted from online
Manual for the Cricut Explore >

Maximum image sizes for Print then Cut
Each web browser has different settings for printable area size,
which means that
Print then Cut images have different maximum sizes
depending on the browser you use.
If you save a project
in one browser and later open it another,
you may need to adjust the image's size according
to the browser's printable area settings.
Below is a guideline for maximum Print then Cut image
sizes in each browser.
Chrome: 5.5" x 8"
Firefox: 6" x 8.5"
Safari: 6" x 8.5"
Internet Explorer: 6" x 8.5" note in Dec 2016, Cricut no longer supports IE

Microsoft Edge available on Windows 10 computers: 6"x8.5
for those who use the Design Space App
on an iPad or iPhone: 6.5"x9
"
Here is photo of the printed image from my printer
(I used an HP Photosmart 7510 for this and other images on this webpage) -
the clip art printout ,has the registration marks
needed to aid the Cricut Explore in cutting the image.
Note: you may on some im
ages see
a blurry edge surrounding the printed image, that is the Bleed Line. The Bleed lines
are necessary for the Explore to follow and cut as close to the edge of the images to get a clean cut.
So don't be alarmed if your image's edges seem fuzzy or blurry when printed.
The screen prompts me to
Load the printed image to the Cricut Explore (after putting it on the mat)
I loaded it to the machine and pressed the Cut button when it blinked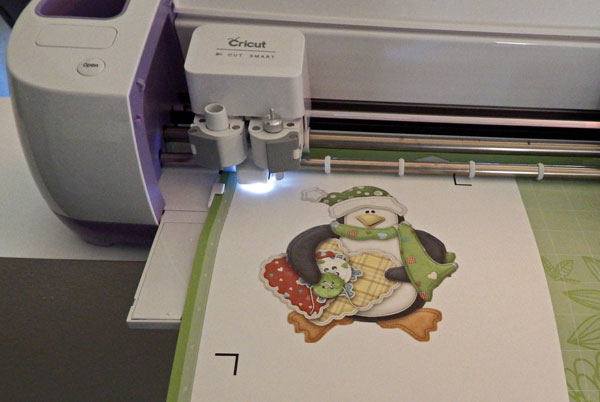 Taa-daa, I removed the cardstock from the mat and here it is all Cutout- YEA!!!
Successful beginning with my very First attempt at cutting a clip art image using my
Cricut Explore.
I did another cut, to see if I was just "Lucky" on that first one,
This time I used a bit more complicated image with small inside areas that
the machine would hopefully cut out. I used an image by
Laurie Furnell
, from
her PCCrafter creatable "A Christmas Sampler"
(
this particular clipart set and image of the Hobby Horse is no longer offered for sale
).
Note: I first created a PNG image
from the original jpg format image,
by using my Microsoft Digital Image software. I used my magic wand
tool to select and remove the white areas surrounding the original JPG image. I then
saved the image in PNG format to retain its transparency. I used the PNG image to
upload to Cricut Design Space.
I usually will prepare all of my images using my own offline graphic/photo editing software programs,
before uploading to
Cricut Design Space,
and I prefer to upload clip art that are already or saved in PNG format .
Note: Cricut Explore Design Space has a magic wand tool built in,
so that if you upload a JPG image,
you can remove the white areas before inserting it onto your Canvas
,
Note: I purchased each of the Images that I am using to cut out on my Cricut Explore machine.
Please respect all Artists Terms of Use and Copyrights
I have purchased images from the former pccrafter.com website (pccrafter is no longer online)
Even though pcCrafter is no longer online,
all Terms of Use and Artist Copyrights remain in effect
for all clip art collections you may have purchased and
downloaded and installed to your computers.
Online stores I have purchased clip art from include:
Nitwit Collections
,
DAISIE Company
,and
DigiWeb Studio
,
along with many others over the years.
Do NOT automatically assume that images you find online
are free for you to use in any manner you choose
.
There are many illegally shared clip art images online, please do not engage in illegal file sharing
or disregard Terms of Use or the Artists Copyrights.
Do NOT upload any of your owned images to websites such as Picasa Albums, Pinterest Boards, etc.
Most FREE images found on Digital Scrapbooking or Digital Clipart sites are for Personal Use Only.
Read all Terms of Use before you purchase or download clip art from reputable web stores
I uploaded the image using Basic Upload and chose "Complex images"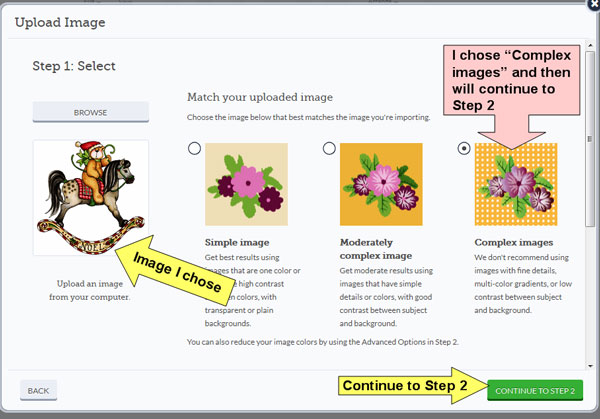 I sized and arranged the image, and then pressed GO button and followed the prompts
as I did for the Penguin image
Printed it out via my HP Printer on white cardstock
placed image on the mat for the Cricut Explore, and loaded to the Machine, and pressed Cut
(the cut button looks like the Cricut logo)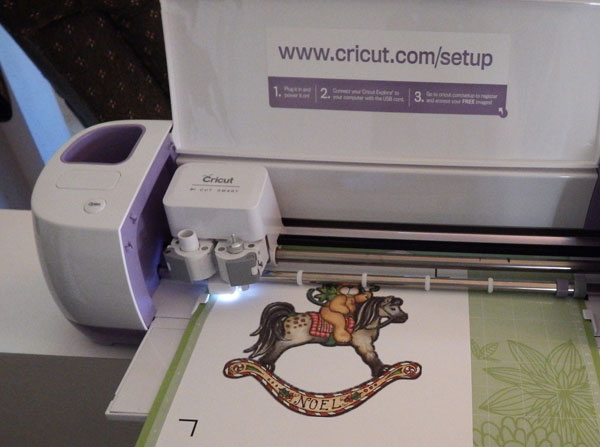 When done I removed the paper from around the image, and then the small inner pieces, when
I lifted the Hobby Horse image from the mat completely
lifted from mat, the main hobby horse image, leaving small pieces on mat
(for this photo, I had already removed the small parts, but put back on mat for you to
see each of the very small parts that the Cricut Explore cut out.
Taa-Daa -Success Again!!
I am a Happy Camper and I continued to cut out 4 more clip art images
Image Credits

: Upper left to right

Bear with Hearts from pccrafter creatable: My Honey by Rebecca Carter (

no longer available for sale

)

Punkin Time from Nitwit Collections :

Lil Bits Punkins

Camping word from Nitwit Collections :

FQB Gone Camping

Girl with cut out hearts from pccrafter creatable Welcome Winter by Tricia Santry

(

no longer available for sale

)

Lower left to right

Penguin from Nitwit Collections:

FQB Great White North

Hobby Horse with Bear from pccrafter creatable: A Christmas Sampler by Laurie Furnell

(

no longer available for sale

)

Note: Laurie does have a clip art set available in

her Etsy store

named "

Christmas Sampler

", but it contains images

that were in her former pccrafter creatable "

A Christmas Sampler 3

" .

Note: she names sets that may have previously sold at pccrafter.com

as "Classic" Clip art, new sets are labeled Laurie Furnell Designs

~~~~~~~~~~~~~~~~~~~~~~~~~~~~~~~~~~~

I found the set up of the Cricut Explore machine, hooking it up to my computer

via a USB cord**

and using Cricut's online Design Space to upload images from my own computer, and printing and cutting out these images to be fairly easy.

---


**Update: in Dec 2014, I did purchase the Cricut Bluetooth adapter so that I could pair it with my other laptops. As of Nov. 2016 I personally own and use 4 laptops. One with Widows 7, 1 with Windows 8.1, and 2 with Windows 10. I am able to use Design Space on each of them and able to use the Print then Cut feature on each. I still have my Win 7 laptop connected to the Explore via the USB cord. For my Win 8.1 that computer did not come with Bluetooth, so I purchased an inexpensive USB Bluetooth Dongle, that I placed in a usb port on that machine and I was able to pair it with my Explore. The Windows 10 laptops do have Bluetooth, and I paired each with my Explore. To pair the 2 devices use the code 0000 (4 zeros) Note too: the model I own is no longer sold or made by Cricut. The models with AIR in the title have Bluetooth built in and only need to be paired with a Bluetooth enabled computer or iPhone or iPad. The Cricut Explore ONE model does require the purchase of the Cricut Bluetooth Adapter if you choose to pair it with any Bluetooth enabled computer or the iPad or iPhone. For iPad or iPhone users you need to have the Cricut Design Space free app on your devices. There is an App for Android device owners but as of Jan 2017, it is in Beta, and does NOT have all the features that iPad or iPhone users enjoy, and it may never have all of the same features. It is more difficult to develop apps for Android (or so says the folks at Cricut) All Cricut Explore machine models come with a USB cord if you choose to hook up your Explore to your computer that way

.

---
See Page 2 > more of my experience with the Print & Cut feature of the Cricut Explore
See Page 3 > more of my experience with the Print & Cut feature of the Cricut Explore

Making Cards using features of my software programs and cutting with my Cricut Explore
http://sippingtea.com/tuts/cardscutwithcricutexplore.html

How I Printed and Cut elements/images from a Digital Scrapbook Kit
http://sippingtea.com/tuts/printncutdigielements.html
---